//= comments_number(); ?>
Estimate reading time: 5 minutes
Mid November.. we are having a meeting with guys from Creepy Studio, discussing results of Designblok. I am pretty frustrated, with this amount of resources spent (wasted), trying hard not to show it and demotivate others. Actually, I am depressed. I don't mind failing when it is about building a machine, trial and error experiments etc. But I don't feel comfortable when something goes so much out of expectations, with so many people involved.. Never mind, I need to draw a line and get over it, like I did so many times. David is again suggesting I should focus on our Youtube channel and start making videos. He's been suggesting this idea since we started working on the website. And I've been turning him down again and again. I need to focus on work and spend each minute efficiently instead of fiddling with cameras, lights and tripods. We already made that "Art of making a nixie tube", what more can I show? Moreover, I really really hate being infront of a camera, after all I am a tube maker, right?
The meeting is over, guys are getting ready to go home.. David turns back, with twinkle in his eye saying "look up Wintergatan channel on Youtube..".
"Sure, will do.."
Grandhotel Pupp
Friday morning, with Eva (my wife), we bring kids to school and set off for a 450km long trip. We have two free days ahead for relax, grandma will take care of kids.. We are invited to stay at Grandhotel Pupp (est. 1701) in Karlovy Vary (Karlsbad), we are going to meet its CEO – they expressed interest in having our nixie clocks at their top apartments. This contact was one of two interesting B2B opportunities which came to us on Designblok – I hope to establish some cooperation so I can reconsider outcome of the Designblok. The journey is great, nice winter sunny weather.. The town Kralovy Vary is much more exciting than I had expected, two rows of historical buildings built in a valley along a river meandre.
We are approaching the Grandhotel Pupp – it is enormous building, I am sure this is the biggest hotel I've been to so far (228 apartments). I am heading for the hotel's parking lot. Man at the gate knows about me (great organization), but he sends me to hotel driveway, where "they will take care of me". So I am taking the car there, this is first time I am parking the car at that circular hotel driveway we know from movies.. Parking our 10-years-old Volvo next to Maserati, Porsche, Mercedes – I feel a bit inappropriate here. Before I can get out of the car, there is a porter from the hotel. In a suit, he is dressed better than me. Fortunately in the morning, Eva persuaded me to take trousers and shirt insead of jeans and black t-shirt which I wear everywhere – so I don't feel that inappropriate. The porter offers me to take my luggage, I am opening the trunk and ask him for a minute – I need to stuff all our mess into a suitcase.. I actually use the car's trunk as a luggage and pick just what I need with me.. What an awkward situation, feeling a bit inappropriate again 🙂
The hotel itself is really classy, the staff knows about us, we don't need to explain purpose of our stay. We have half an hour before the meeting with director, I use it to explore the hotel. I am holding my breath looking at places from famous movies which were shot here. Casino Royale with Daniel Craig for example (see youtube video below). We are accomodated in one of the top apartments, very nice room – we are excited.
The meeting is a success, I will disclose details later. The CEO is at difficult situation, there is significant loss of russian clientele in Karlovy Vary, so he needs to change strategy and make the hotel more attractive for clients from western countries. Part of this strategy is to upgrade hotels furnishings with traditional Czech hand made items. Moser glass (est. 1857),  Thun porcelain (est. 1794) etc.., what an honour to be connected with names like this!
Youtube channel restart..
I returned home with much more optimistic feeling. Lot of work waiting for me as usual, I didn't remember David's channel recommendation until next Friday afternoon. Making little while for myself, I took iPad and was trying to remember name of the channel. I knew it was something with winter.. After a while I found it – Wintergatan! First video – a guy spinning a wheel on a strange wooden machine, I see lot of metal balls (called marbles) flowing through the machine, falling onto individual instruments like xylophone and cymbal – all sounds really good. Totally crazy, I cannot tear my eyes away. Suddenly I hear beats and drums, it starts looking like a fake video – so I go deeply into the channel hoping to find more information about the machine. And I am immediately blown away – its far from being fake, the channel contains over hundred videos… I am finding that Martin (the guy from video) spent 14 months fulltime working on the first version of the "Marble Machine". He ended up with something which was good for shooting this video, but not for touring with his band, which was his initial intention. After making the video with first marble machine, he decided to build new version based on experience he learned, the new machine (called Marble Machine X) which will reliably play on stage and will be able to travel with Wintergatan (it is a name of Martin's band) on their world tour.
In upcoming days, I was staring to iPad, watching all his videos (usually more than once), utterly absorbed in his world. I don't know the reason why it cought me this way – the channel is a mix of engineering, music, story of persistence and devotion to a mission.. Suddenly I understand why David recommended me this channel.. I got so motivated to capture my own projects and development of the company in this way.. I was always afraid that similar way would be to technical and too boring, we will see!
Long story short, 10 minutes after discovering Martin's channel, I had a new DSLR camera shipped to me and started gathering my photo gear all around the house, garden shed and castle workshop.. I am writing these lines two months after I found Wintergatan and I still feel the same urgent need to document my own efforts on more consistent basis. I actually already started.. It will take some time to roll out first video – there are so much skills needed to make something which will not bore you to death 🙂 Stay tuned!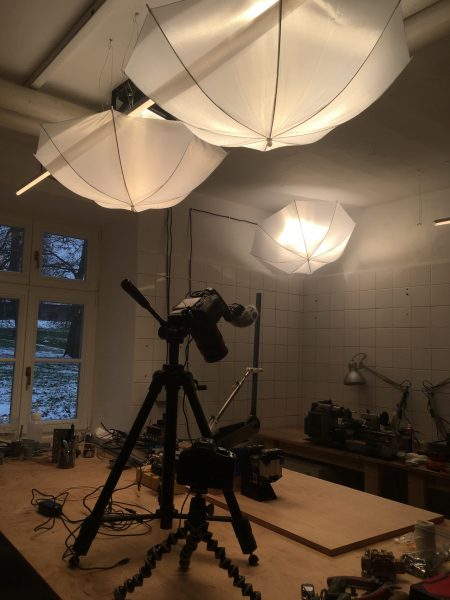 Fusion 360
Some quick tech stuff on the end.. I spend quite some time modeling things in 2D/3D CAD. I'd been using QCAD for 2D drawing and then Punchad 3D for modeling in 3D. This combination works quite well, but it miss a lot of advanced features and also the workflow is quite slow. This month I started learning Fusion 360 which is getting more and more popular among small companies and I now fully understand why.. It is very powerful tool while being affordable.. At the beginning, I was confused with the system of constrainsts and timeline, but the Fusion's learning curve is pretty steep and I fully switched to it even before the trial period expired. I am so glad I gave it a chance!
Keep in touch and dont forget to subscribe for a newsletter or our Youtube channel.